To Our Shareholders and Investors
We aim to realize continuous growth and create corporate value by solving social and environmental issues through our business activities
I would like to take this opportunity to sincerely thank our shareholders and investors for their constant consideration and kindness.
The COVID-19 pandemic, which started in early 2020, is lasting longer than initially anticipated and it continues to have a severe impact on the global economy. We are using the pandemic as an opportunity to re-evaluate the Group's businesses and organizational structure. We are working to take our already thorough compliance and CSR efforts to the next level and to make further voluntary contributions in areas such as society and the environment. We have positioned ESG promotion at the center of our management direction and all employees are coming together with the goal of raising our value as a company working toward the realization of a sustainable society.
Also, in August we released a new medium-term management plan for the Group which included both our long-term vision and the direction we plan to take over the next three years. When formulating this plan, we identified issues in both the internal and external environments and then carried out dialogue between officers and employees in order to reassess where our strengths lie. These strengths have been incorporated into a specific, achievable vision.
The strengths we have cultivated over the 90 years since our founding are our three core technologies, our manufacturing capabilities, and our ability to respond to customers' needs. We will leverage these strengths in order to continue to contribute to society and the environment through our manufacturing activities in a way that leads to new value creation and the enhancement of corporate value.
Although it is still difficult to envision a post-pandemic society, we must find a way to adapt to these uncertain times. In this new era, no matter how the social structure changes, we will remain steadfast in our effort to be a group of companies that maintains long-term relationships of trust with our stakeholders. I look forward to your continued support.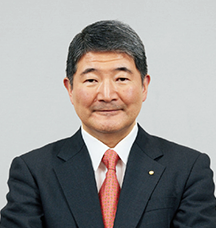 President & Representative Director
Koji Takahashi