A Message from Our Technological Director
By remaining committed to technological development and meeting our customers' needs, we will continue to support the production of a variety of goods indispensable to the maintenance and development of society.
Since its founding in 1931, Dainichiseika Color & Chemicals Mfg. Co., Ltd. has been developing products tailored to the times. Originally our business consisted of the development and manufacturing of pigments. While remaining committed to the development and deepening of that industry's technology, we have grown our business to include areas like offset inks, plastic colorants, gravure inks, colorants for synthetic and chemical fiber, polyurethane resins, and polymers derived from natural substances.
As today's economic and social environment continues to change significantly, accompanied by intensified global competition, the role of research and development has become more important than ever in creating new value for our customers and producing new business. Accordingly, we hold to the deepening and development of accumulated proprietary technology as a means of achieving the three objectives we work towards.
Incorporating these into our business activities, we focus on four particular fields: the environment, energy, personal care, and IT and electronics. Themes in these fields center on three indicators: 1) environmental harmony, ESG and responding to the SDGs; 2) the development of high-performance materials; and 3) basic research and the promotion of development involving internal/external collaboration. In these ways, we will strive every day in the research and development of these areas to meet the needs of customers and society.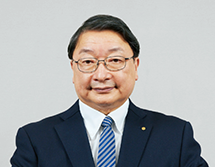 Our Three Objectives
Expedite creation of new, high-value-added products
Develop tailored products to serve our customers
Develop original products
Deepening and Development of Accumulated Proprietary Technology
Deepening and advancement of core technology
Creation of new technology
Addition of new functionality through technological integration
Enhancement of material and functional evaluation technology and applied color science technology
Development of human resources